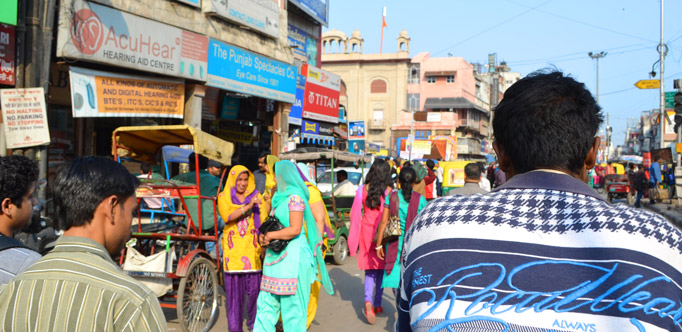 New & Old Delhi Day Tour
New Delhi – India Gate – Humayu's Tomb – Qutab Minar – Gandhi Smriti
Pick up from hotel
9:00am
Old Delhi
Pick up at your hotel and drive to Old Delhi.
Jama Mosque
First of all visit Jama Mosque built by Shahjahan in 1656.
Rickshaw ride
Then we take a Rikshaw ride and enjoy the atmosphere of Old Delhi. Walking tour through the bustling, ancient streets and lanes of old Delhi.
Chandni Chowk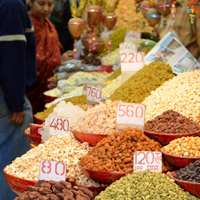 Arrive at main Chandni Chowk street (one of the oldest and busiest markets in Old Delhi) and visit a Sikh temple. If you are little adventurous then you could test some authentic food in Parathe Wali Gali (food street).
New Delhi
Then tour of New Delhi. You will drive past President House, Indian Parliament, and Kings Way.
India Gate
Then visit of India gate, a war memorial built in 1921 in the memory of Indian soldiers who lost their lives in First World War.
Humayu's Tomb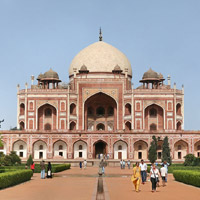 Then you will visit Humayu's Tomb (pictured top). He was the second Mughal Emperor. Tomb was built in 16th century by his wife Hamida Banu Begum or Haji Begum in the memory of her husband.
Qutab Minar
Then you will visit Qutab Minar, 72.5 meters high stone tower built in 12th century by Qutab Ud Din Aibek, an emperor from slave dynasty. This is a UNESCO World Heratige site.
Gandhi Smriti
Finally we will visit Gandhi Smriti Memorial in central Delhi.
Return to your hotel
8:00pm